THOMAS WATSON
THE BOOK ON KIRKINTILLOCH BY THOMAS WATSON P.97-104
MOST GARTSHORE'S COME ACROSS THIS BOOK WHEN THEY FIRST START TO RESEARCH THE NAME. PAGES 97 TO 104 GIVES A BRIEF HISTORY ON THE FAMILY FROM THE CHARTER RIGHT UP TO MARJORY WHO DIED IN 1814. THERE IS A NICE PICTURE OF GARTSHORE HOUSE, AND SOME POETRY AT THE END. THE CONFUSING BIT IS IN THE MIDDLE WITH ALL THE ALEXANDER'S AND YOU HAVE TO WORK OUT WHO IS WHO. IT TOOK ME A VERY LONG TIME TO WORK OUT WHO IS WHO IN THIS FAMILY, I CALLED THEM THE GARTSHORE'S OF GARTSHORE. I HAD THE HELP OF FRASER GARTSHORE AND SONDRA JERNIGAN, IN FACT SHE WAS THE ONE WHO FIRST NOTICED THAT THERE ARE MORE THAN ONE PATRICK MURRAY, WHEN YOU WORK THIS FACT OUT THEN YOU SEE MORE.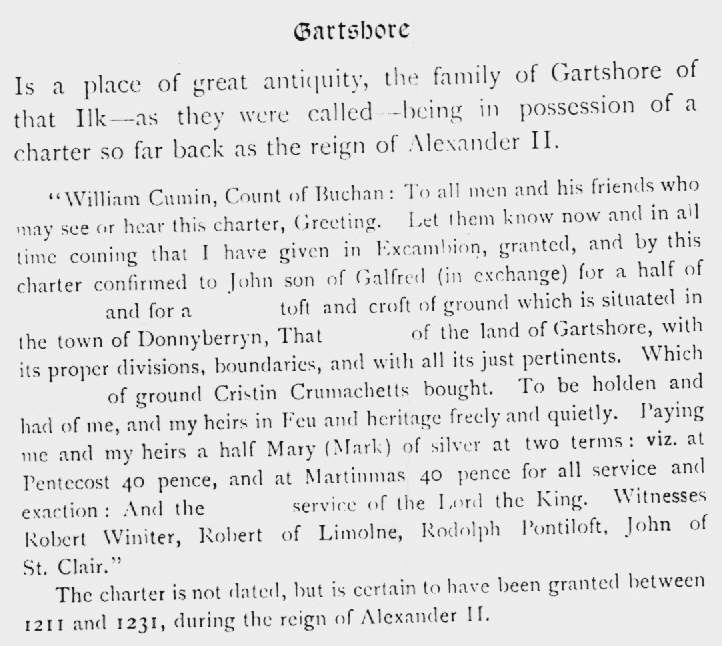 The next passage refers to a few events relating to the Gartshore's, also a mention to Barbara Hamilton and to her father James the Duke of Chatelherault and also James, Lord Fleming. There is a caution for John Gartschoir alias Golfurd and a mention of John Gartscho of that ilk.
The next few pages are hard to follow, they tell of the family from the reign of King Charles I up to 1814. There is also a photo of Gartshore House when Alexander Whitelaw owned the property.
All in all this is a good place to start, where Thomas Watson got all his information from we will never know.